Are you looking for a way to improve your security? Electronic locks might be the answer. They offer many benefits and are relatively inexpensive. In this blog post, we will explore some of the reasons why you should consider electronic home locks if you want to increase your peace of mind and make it more difficult for intruders to break into your home. Electronic locks are relatively inexpensive and can be installed by a professional like us at StrongHold Locksmith Brisbane. The cost of an electronic lock is comparable to the price you would pay for a traditional keyless deadbolt, but you don't have to worry about losing your keys or forgetting them somewhere else or leaving them behind at home when going on vacation. Another advantage of electronic locks is that they offer all types of features like remote locking/unlocking via smartphone applications and door detection with video recording, so if someone breaks into your house while you're away from it, you'll know as soon as possible!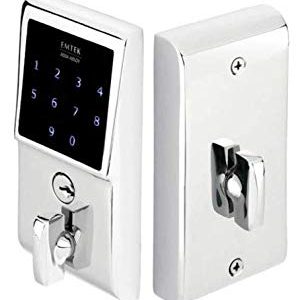 You should consider electronic locks for the following reasons:
Easy installation: Instead of having to drill into your door, you can install these locks in minutes without any mess or fuss.
Quick access: You won't need a key to get back inside your house if you ever forget it at home and lose everything because the lock will recognize your fingerprint. So no more worries about forgetting something important!
Low cost: Electronic locks are surprisingly inexpensive, which means that anyone can afford them, not just high-income earners who might be able to afford traditional deadbolts with keys.
Windows optional: If you don't have windows on some of the doors in your house (such as bathrooms), then traditional deadbolt installations may not be an option for you, but electronic locks work fine without windows.
Peace of mind: Electronic locks are a smart investment because they provide peace of mind for homeowners who want to protect their families and belongings from intruders.
No key hassle: You're tired of keeping track of your keys and want to make it easier on yourself.
Give time-bound access: You can set a specific time limit on the access that each person has to your home, so those with extra-long work hours know they won't be able to come in at any point during the day without you knowing it – unless they have a key! This is great news if you're nervous about babysitters coming over while you're not around. It also helps people who want some alone time but don't want to be alone for too long.
Helpful for owners with pets: Your dog is always running away and opening doors when there are no people around. Electronic locks will stop that issue.
Another benefit of electronic locks is that they can be used as home automation and to control other things in your house like lights, curtains, and more! If you want a smart lock but don't have any plans for integrating it into an existing system, or if you just prefer having everything under one app, then this could also be a good option for you. Plus, digital locks are much easier when someone has lost their keys because there's no need to change out all the hardware inside the door; instead, just changing out the cylinder will do! A bonus advantage of these types of locks is that many come equipped with alarms that sound when the door is forced open. This will make intruders think twice about breaking in and help keep you safe!