Opening and closing doors are something you can make more accessible at home or away. Stronghold Locksmith offers touchless door entry to make businesses and commercial buildings more accessible and innovative.
Commercial buildings and businesses tend to use touchless door entry more frequently. Because of their easy use, comfort, and sleek design, they are becoming increasingly popular. With touchless door entry from Locksmith Albion, employees, customers, and visitors can enter and exit your building quickly.
Why You Should Consider Touchless Entry
Everything is explained in the name. You can have a touchless entry with Stronghold Locksmith if you imagine a building where you don't have to use your hands to open doors. Opening a door will be much easier and cleaner if you can ensure that your hands never touch the doors with a wave of your hand, a swift footstep, or a simple arm movement.
Businesses and buildings with a high level of traffic will benefit from touchless door entry. Schools, hospitals, large and local businesses, public restrooms, offices, etc., may fall into this category. In addition to making opening doors easier, the touchless entry makes them safer. People who open doors can quickly spread germs and bacteria from door handles; removing their hands from the door handles can ensure their well-being.
Touchless Entry Types
No-touch activation with Wave
Waving to open a door eliminates bacteria by 100%, making it easier and faster for your clients and employees to get to work. With wave-no touch activation entry, you won't have to worry about dealing with keys and fobs if carrying a load of packages or products.
The wave-no activation entry technology will ensure your sensors will withstand high traffic and all weather conditions if you place them outdoors.
In addition to blending perfectly with your building, these sensors will protect every entrance.
Pulls on the arm
A popular hands-free door entry method is the arm pull, which is durable and stable. These pulls combine a sleek design with the most robust materials on the market, blending well with any door. Consequently, you can open doors with your forearm, which is easy and convenient.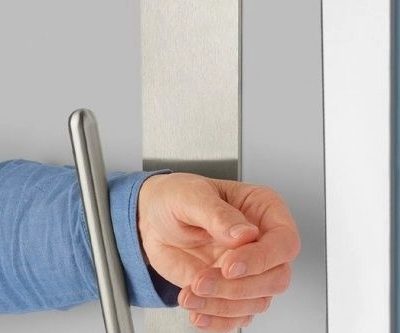 Pulls on the feet
With a foot pull, you can access a door using the duplicate touchless entry as you would with an arm pull, except that you are using your foot instead of your arm. Their sturdy construction makes it easy to open doors when carrying, to push, or holding objects.
Since your feet are almost always covered, whether you're wearing socks or shoes, it's a highly protective option for your clients and employees and an improved way to open hallways.
Making a Difference
Clients, customers, and employees need to be comfortable and well taken care of, just as you do. Today, businesses worldwide are searching for new methods to protect everyone entering their building—advancing their hygiene and safety protocols and looking for new ways to protect their clientele.
A touchless entry is one of the best ways to ensure that that need is met. It provides a level of security that no other door entry system can offer, and the devices are easy to use and reliable. Several options can be installed in any entranceway, regardless of your building type or business!
Why Touchless Entry Is Best For Commercial Buildings
Reliable technologies and mechanisms
You expect nothing less than 100% efficiency when opening a door as quickly as possible, and that is precisely what Stronghold Locksmith delivers. Regardless of which touchless entry system you choose, you can be assured that it will be installed by the most competent technicians and with the highest quality materials available. Make sure you equip your doors with the best equipment. They are one of the essential parts of your business/building.
Touchless door entry is secure.
It may sound convenient for your employees and clients to enter your building without touching the doorknob, but is it secure? Yes, of course! It is possible to install touchless door entry systems on existing doors, and they work hand in hand with existing security systems and locks that have already been installed. It is important to note that the FCC (Federal Communications Commission) has certified them to be secure. As a result, you not only get to know their effectiveness, but you also have the assurance that you are buying a reliable product.
Easily integrates with existing doors.
When businesses and building owners often hear about new doorway devices, they assume they will have to replace their existing doors. Thanks to Stronghold Locksmith Touchless Entry's versatile designs, that fear is nonexistent due to its ability to install on any door and not detract from the look or security of the door.
Choosing Stronghold Locksmith for Touchless Door Entry
Increasingly popular in recent years, these new, innovative devices have led many businesses and building owners to wonder why they should invest in them. 
We always begin by establishing a connection with you to provide you with the best service. We get to know your company/building and who you are. Afterward, we'll discuss all the different touchless entry systems with you.
We have highly-trained, highly-experienced staff who have extensive knowledge of these systems, but ultimately the decision is yours. Because Stronghold Locksmith only wants to provide you with the best and most effective solutions, we will ensure you receive them. Additionally, we have highly trained installation technicians who will install and demonstrate how to use the device.
Stronghold Locksmiths Go The Extra Mile With Touchless Door Entry
Stronghold Locksmith is a wise investment for your business and building regarding touchless door entry. In this way, you demonstrate to your clients and employees that you are willing to go the extra mile for them. Providing a more straightforward solution for areas with high traffic and limiting the spread of harmful bacteria is more important than ever.
Offering superior solutions is one way we distinguish ourselves from our competitors. Contact our team of door specialists today to learn about all the benefits that touchless entry can provide for your building and business.